A new bundle has been unveiled. This new bundle will include the newest racing title to grace Microsofts console, Forza Motorsport 2.
The Bundle Will Contain The Following:
Xbox 360 Premium
Wireless Controller
Wired Controller
HD/AV Cable
Ethernet Cable
Forza Motorsport 2 Game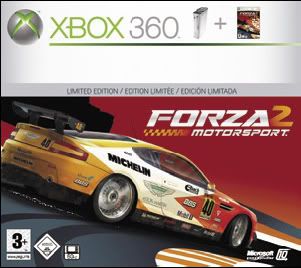 The Pack will retail for around £299.95 and will hit stores alongside Forza 2 the game on May the 25th.
Originally Written By: Lee Matthews
Console Monster is an independent gaming website that is dedicated to the Xbox and PlayStation gamer. Established in 2005 our team of UK and USA volunteer gamers bring our readers regular console gaming articles. If you are looking for a platform to get yourself heard, we would love to hear from you!